Book Conference 2021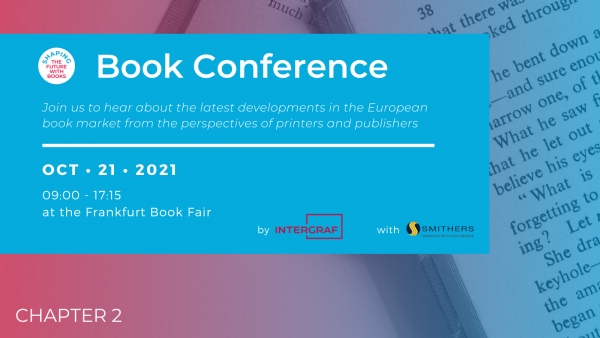 Shaping the Future of Books
11 February 2021 at 11-12.30

Click here to register now!
Books promote progress and learning; they entertain, inform and stimulate; they improve focus, analytical skills, vocabulary, mental health and memory. The book industry is indispensable, but it has not been spared by the impacts of COVID-19. How far has the pandemic affected book printing?
Shaping the Future of Books will take a deep dive into the workings of this important market and the latest industry data. The event will give attendees the latest insights into how the book market has fared in 2020 and what kind of challenges printers and publishers had to face. We will also look at how the experts see future developments in this market.
The 2021 edition of our Shaping the Future of Print event is extra special because we are organising not one, but TWO events! Chapter 1 is a virtual event, held on 11 February 2021.
Book printing expert Håvard Grjotheim will moderate the event and discuss the latest market developments with a book printer and a publisher (names to be confirmed very soon). Additionally, renowned industry research institute Smithers will give attendees a taster of their book market report, which will be presented in full at Chapter 2 of the event, taking place during the Frankfurt Book Fair 2021.
CHAPTER 1: VIRTUAL on 11 February 2021 at 11-12.30h (CET)


CHAPTER 2: IN-PERSON in October 2021 at the Frankfurt Book Fair (date TBC)
REGISTER HERE for the VIRTUAL EVENT*

 * Registrations to the in-person event will take place after the virtual event - stay tuned!
Shaping the Future of Print is supported by our market research partner Smithers, who will provide participants at the February event with a teaser to their exclusive market report about books, which will be presented in full at the October event.

Contact: Annie Scanlan
{K2Splitter}