Member Testimonials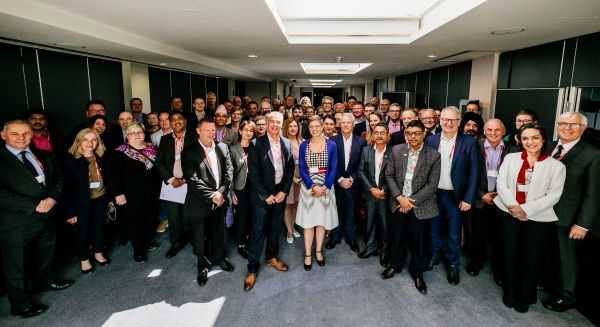 "The biggest value of my membership of Intergraf is that I have the opportunity to build relationships and share knowledge with European colleagues working in my industry. At Intergraf's events I have met printing experts from all over the world who offer unique insights into the communication industry. I take inspiration from these interactions, using best practices I have learned in my own work."
Håvard Grjotheim, former Intergraf President and Former CEO of 07 Group, Norway
"As a member of one of Intergraf's Working Groups, I have been able to tangibly influence EU policy in ways that would not be possible without such a supportive European platform. Members' views are methodically taken into account and as a result I feel well-informed and well-represented at EU level."
Dale Wallis, former Membership Director at the BPIF (British Printing Industries Federation), UK
"There is a lot of value in being able to work together on such a wide variety of policy areas and Intergraf facilitates many opportunities for us to get involved. The influence this helps to give us in Brussels is crucial to our work."
Dr. Paul Albert Deimel, Director General of bvdm (Bundesverband Druck & Medien), Germany
"Intergraf's monthly newsletter is a very useful communication tool as it is informative, accessible and easy to read. Their work as 'our voice in Brussels' is also a valuable reason to be an active member because Intergraf has a wide network of contacts in Europe - including at the EU Institutions and other associations related to the printing industry."
José Manuel Lopes de Castro, former President of APIGRAF (Associação Portuguesa das Indústrias Gráficas e Transformadoras do Papel), Portugal
"Intergraf's guides and Factsheets about EU legislation play a really important role in our work. The team's closeness to the European Institutions and knowledge of policy issues are an invaluable resource. We always receive timely information about policy developments that help us to stay compliant in this dynamic market."
Janina Bluma, Member of the Board at the Latvian Printers Association, Latvia
"The Security Printers Conference & Exhibition is a not-to-be-missed event for security printing professionals. Seamlessly organised by Intergraf, it facilitates all-important networking opportunities with other experts in the sector and helps me keep up with all of the latest technologies."
Miguel Brunete Bravo, Production Managing Director Fábrica Nacional de Moneda y Timbre - Real Casa de la Moneda, Spain
Would you like to become a Member or Associate Member of Intergraf? Then get in touch! Still can't decide? Then check out more of the Member Benefits: www.intergraf.eu/members/member-benefits or DOWNLOAD our Membership Brochure.

Membership
Full Membership of Intergraf is available for national printing associations located in Europe. The fee for Members depends on the turnover of the industry and the GDP in that particular country.
Associate Membership
Associate Membership is open to any company or association wishing to deepen collaboration with Intergraf without becoming a full member. The exact nature of collaboration can be negotiated.
How to Join
To enquire further about Membership or Associate Membership of Intergraf please contact a member of the team. We look forward to hearing from you!
Contact: Alison Grace
{K2Splitter}