CONGRATULATIONS TO THE WINNERS OF THE 2021 INTERGRAF YOUNG TALENT AWARD!
1 September 2021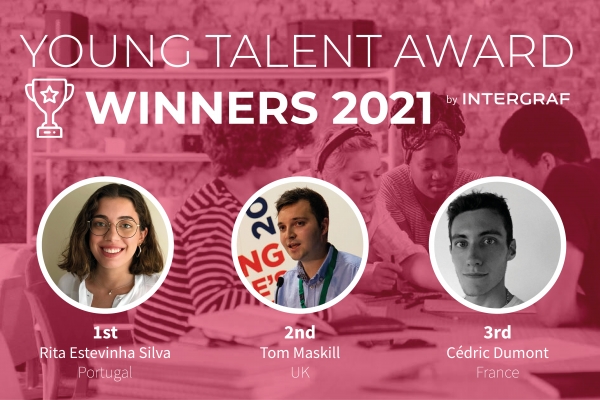 We are delighted to introduce you to the winners of the 2021 Intergraf Young Talent Award, our annual celebration of the pioneering ideas of young people in print. First place was awarded to Rita Estevinha Silva from Portugal for her entry 'The Future of Printing: a Gen Zer's view'. Tom Maskill from the UK won second place, and Cédric Dumont from France won third place.
The Intergraf Young Talent Award was created in 2017 to raise the voices of the next generation of print professionals. This year was focused on how the sector can remain attractive for young people. How will print develop in the future? What kind of working environment are you looking for? How could a printing company provide this? These were the three important questions addressed by entrants to the 2021 edition of the award.
Rita Estevinha Silva's prize-winning entry from Portugal presented a particularly thought-provoking and challenging view on the future of print. The printing industry, Rita noted, needs to "look at technology as an opportunity rather than an enemy, so it can effectively change". Part of this change is, of course, embracing all things digital, but Rita also extolled the importance of providing a "fresh and happy environment" by developing more modern workplace practices which centre the well-being and satisfaction of staff, rather than more traditional structures that have sometimes remained unchanged and unchallenged for too many years.
Responding to her win, Rita said that "I am still astonished with this award. I have always dreamed about being an active voice in the contemporary discourse. This surely is a glimpse of such dream. My heart is full. Thank you, Intergraf!"
Rita will be presenting her winning ideas at the Final Conference of the Print Your Future project on Wednesday 3 November 2021 in Brussels. Contact This email address is being protected from spambots. You need JavaScript enabled to view it. if you would like to attend.
The judging panel this year had a very challenging decision to make after receiving so many excellent submissions from across Europe. Although there could only be one winner, the panel recognised two other deserving submissions by awarding second and third places.
The winner of second place, Tom Maskill from the UK, said that "It's fantastic to be recognised in the Intergraf Young Talent Award 2021. Despite a tricky last couple of years and ongoing challenges, there's all kinds of good and innovation coming from the world of print. It's exciting to be a part of."
This year's third place winner, Cédric Dumont from France, celebrated his second consecutive recognition in the Intergraf Young Talent Award, stating that "I'm very grateful to Intergraf for this prize! For the second year I win the third place of the Intergraf Young Talent Award and it's very important for me to share my ideas with these actors of the graphic industry!"
The top 10 entries from 2021 and top 3 from 2020 can be viewed on the Print Your Future project's website. All entries raise a lot of important points and should be studied with attention by everyone with an interest in the future of print.
{K2Splitter}