Member Benefits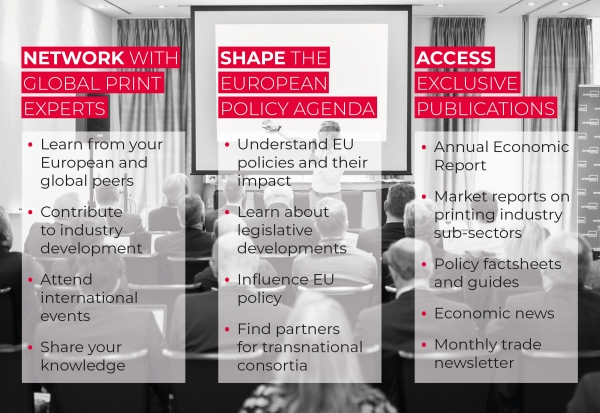 As well as our public communications and newsletters, Intergraf Members and Associate Members gain EXCLUSIVE access to internal information and publications, as well as access to our events, global network, policy expertise and strong connections to EU officials. Members and Associate Members can simultaneously access information and advice, strengthen their own work and improve the prospects of the wider sector.

Benefits for Members and Associate Members include:
Market Reports
The European printing industry is vast and made up of many different types of printers. We produce, frequently alongside our market research partner Smithers, various market reports and other economic publications. Some reports focus on the European printing industry as a whole, others on specific sub-sectors. Including:
Annual Economic Report
European Commercial Print and Catalogues Market Report
European Printed Packaging Market Report
European Magazine Market Report
European Direct Mail Market Report
All of these reports are available to Intergraf Members/Associate Members. Some can also be purchased by non-members for a fee. See our web page Publications for more information.
Newsletters
Anyone can sign-up to receive the Newsflash, our monthly newsletter, but additional newsletters are available on specific topics for Members and Associate Members. These include:
Economic News: Quarterly newsletter giving detailed economic data about the European printing industry and its suppliers
Market News: Bi-weekly newsletter providing an overview of the latest news and developments of print and related industries as the COVID-19 crisis eases
News in Brief: Bi-weekly newsletter giving an overview of Intergraf's work
Factsheets
Intergraf's policy Factsheets each give an overview of a specific piece of EU legislation or policy area, including information about our lobbying actions and position, as well as the policy timeline and next steps. We produce factsheets on a wide variety of policy topics, most recently including:
Services Directive and Draft Services Notification Directive
Digital Services Act
Packaging: Food Contact Materials
Mineral Oil
The Future of Reading
Minimum Wage Initiative
Industrial Emissions
Door Drops
Titanium Dioxide
GDPR
Chromium Trioxide
Social Affairs
VAT
Waste and Waste Packaging
Security Features on Packaging
Timber Regulation
Technical Guides
Sometimes a piece of EU legislation requires printing companies or associations to follow certain regulations or technical processes. To help make this as simple as possible, we prepare step-by-step guidelines on technical topics when they are needed. These include:
Guide to the Authorisation of Chromium Trioxide use for Gravure Printers
Guide to the EU Ecolabel for Printed Products
Guide to the European Commission's Implementing Decision on STS BREF
Guide to the European General Data Protection Regulation (GDPR)
Would you like to become a Member or Associate Member of Intergraf? Then get in touch! Still can't decide? Then check out testimonials from our current Members: www.intergraf.eu/members/testimonials or DOWNLOAD our Membership Brochure.

Membership
Full Membership of Intergraf is available for national printing associations located in Europe. The fee for Members depends on the turnover of the industry and the GDP in that particular country.
Associate Membership
Associate Membership is open to any company or association wishing to deepen collaboration with Intergraf without becoming a full member. The exact nature of collaboration can be negotiated.
How to Join
To enquire further about Membership or Associate Membership of Intergraf please contact a member of the team. We look forward to hearing from you!
Contact: Alison Grace
{K2Splitter}