"WE DEFINE THE FUTURE OF THE BOOK – IT IS UP TO US"
27 October 2021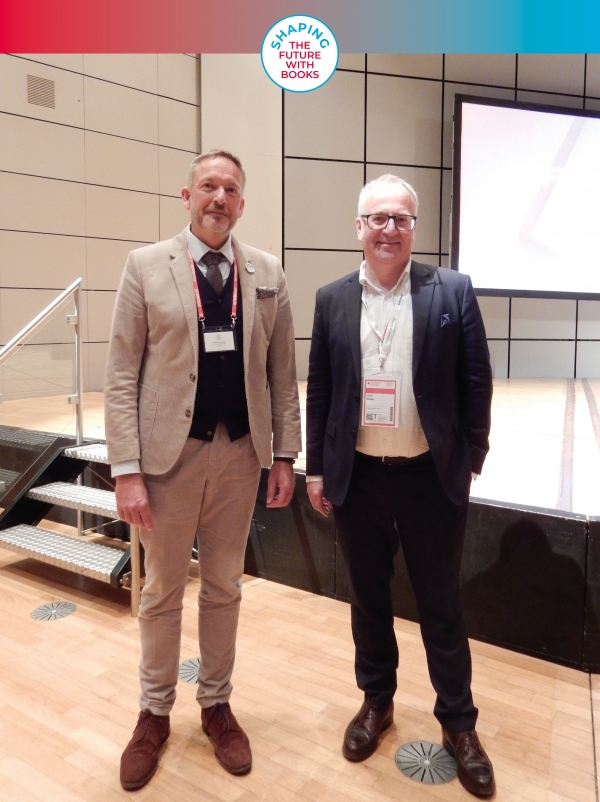 Europe's book market was the topic of Intergraf's first public event of the year. With an excellent line-up of speakers from across the print, publishing, and market research worlds, participants heard about the enduring power and resilience of books. This event was organised by Intergraf at the Frankfurt Book Fair on 21 October 2021 with the support of our market research partner Smithers.
Every speaker at Shaping the Future with Books was united in their passion for books, with Peter Kraus vom Cleff, President of the Federation of European Publishers, offering the inspiring reminder that "we define the future of the book – it is up to us".
Focusing on economic trends, Thomas Poetz, Associate Consultant at Smithers, kicked of the day by highlighting that while COVID-19 has caused "many dramatic changes" – especially in the supply chain – output in revenue is due to grow. Inkjet, in particular, is increasing faster than printers may expect and is "changing this market". Inkjet is projected to grow by 125% between 2021 and 2026. Thomas also highlighted the importance of companies publicising the work they do on sustainability, which he stated was "not a trend anymore – it is real business" and an opportunity for companies "to move production back in Europe (digital printing can help with this)".
Other speakers likewise addressed the key subject of the environment. Rachel Martin and Michiel Kolman from Elsevier presented the work publishers are doing on climate change, with Rachel stating that "publishers already have a good track record in reducing their climate impact", but that "COVID-19 has shown that there is more that we can do". Michiel noted that "it's an opportunity" for publishers when they can work together to prioritise sustainability, raise awareness, and take action about climate change.
For printers, this emphasises that more must be done to show publishers and their customers the low carbon footprint of printed products. For example, by calculating the CO2 emissions of printed products using the International Greenhouse Gas Protocol (scopes 1, 2, and 3). Steve Walker of the BPIF, and Lisa Faratro of CPI Group (UK) illustrated that the Intergraf recommendations on CO2 emissions calculation in the printing industry are the best method for making this calculation (access our recommendations here).
In terms of lobbying, there are some key areas on which Intergraf, and the Federation of European Publishers already work together at EU level. In addition, publishers are particularly focused on issues relating to copyright, piracy, competition (such as the market dominance of certain platforms and the impact of this on diversity), toy safety, product policy, accessibility, and the European Timber Regulation. Moreover, publishers are concerned that many children's books continue to be printed in China rather than in Europe, with Anne Bergman-Tahon, Director of the Federation of European Publishers, stating that FEP would like to discuss with Intergraf how to "bring back this expertise to Europe".
As well as sustainability being one of the fastest-rising trends in terms of production, Vicky Ellis, Sales Director at Clays UK, noted that the lower stock model used by publishers recently is changing due to the current supply chain issues. She predicted that "we will see now a return to larger print runs". Alongside Deputy CEO of Clays UK, Edoardo Cuomo, Vicky stated that demand for books have gone "through the roof" since the beginning of the pandemic, ending on the positive note that "there is something magical about the printed book – there is room for all of us!".
The impacts of digitisation on the book market were also referenced by various speakers. Although it is clear that printed books remain appreciated and competitive in a digital world, digital formats like e-books and audiobooks are also on the rise. Anne Bergman-Tahon of the Federation of European Publishers pointed out that "in Nordic countries, audiobooks and e-books have overtaken print books" which is "a big change". Market research expert Olga Munroe addressed both the environmental and digital trends, stating that as well as being a ritualistic, sensory experience, "reading is a very environmentally-friendly activity – in print or digital". She went on to state that when a title exists in an e-book, it does not automatically mean that it will displace the print version. Andre Breedt, Managing Director of Nielsen Book, pointed out that certain types of products lend themselves more to certain formats – digital formats are not substituting print.
"The future of the book is printed", according to Mohammad Zeeshan Mehmood from Stuttgart Media University, who predicted that print books will continue to co-exist with digital formats like e-books and audiobooks. Andre Breedt of Nielsen Book agreed, explaining that Nielsen's research shows that "the print book market is very healthy, and I don't see any reason why that would change". For example, during the pandemic, book volumes in the UK rose by +2%, e-books by +16%, and audiobooks by +22%. According to Andre, "the pandemic only highlighted the benefits of printed books" – which "remain important, even in an omnichannel market". Hubert Pedurand, CEO of Labellery and Vice-President of UNIIC, took the same tone, noting that "I'm convinced about the future with [printed] books". Based on this belief, Hubert is bringing an innovative new product to the market: Gutenberg One. Gutenberg One is a small machine which can print single books on-demand in 4-5 minutes. Hubert described this invention as "the Netflix of paperback books".
The benefits of reading books in print format were also mentioned frequently. Andre Breedt of Nielsen Book confirmed that "there is a lot of proof that younger and older students both learn better from printed materials than digital materials". The presentation given by Miyako Ikea, Lead Analyst at the OECD, demonstrated this with data. Miyako presented the results of the OECD's latest research on the reading practices of 15-year-olds around the world. She clarified that "in high performing education systems, more students tend to read books more often in printed format", while "in low performing education systems, more students tend to read books more often in digital format" – even after accounting for socioeconomic and gender differences. She also noted that young people who read more in print are more engaged in digital reading (e.g. emails), suggesting that print may also play a role in strengthening young people's digital literacy skills.
The importance of reading in general was further underscored by Miyako Ikeda of the OECD, who warned that 33% of students rarely or never read books – a concerning and growing number. Anne Bergman-Tahon, Director of the Federation of European Publishers, clarified that "although young children continue to read […] young adults read much less" – this was identified as one of the most worrying trends for publishers. Peter Kraus vom Cleff, President of the Federation of European Publishers, expressed the need for publishers and printers to work more closely together and think in networks in order to innovate together and – most importantly – promote reading to young people: "particularly reading in print".
On behalf of Intergraf, its President, Ulrich Stetter, welcomed this suggestion. Intergraf is motivated to work more closely with publishers to promote reading. We fully agree that it is vitally important to promote the sustainability of books, to improve our ecosystem together, to innovate together, to lobby together, and to promote the research findings on reading practices together.
Topics and speakers
The book market and beyond

: Thomas Poetz, Associate Consultant at Smithers

Printing and publishing in the EU – the regulatory framework, an outlook

: Anne Bergman-Tahon, Director of the Federation of European Publishers (FEP)

Retail is not physical vs. online, it is omnichannel

: Andre Breedt, Managing Director of Nielsen Book

The changing world of book production

: Vicky Ellis, Sales Director; Edoardo Cuomo, Deputy CEO; Clays UK

How do 15-year-olds read in today's world?

Miyako Ikeda, Lead Analyst at the OECD (Directorate for Education and Skills)

On-demand book production

: Mohammad Zeeshan Mehmood, Print Media Technologies Student at Hochschule der Medien Stuttgart

Bringing books to all parts of the world with Gutenberg One

: Hubert Pedurand, CEO of LABALLERY and VP of UNIIC

P-books and E-books: consumer behaviour perspective

: Olga Munroe, Researcher (UK)

What we can do for the future of the book

: Peter Kraus vom Cleff, President of the Federation of European Publishers (FEP)

Publishers' work on climate change

: Rachel Martin, Global Director of Sustainability; Michiel Kolman, Senior VP and Academic Ambassador; Elsevier

Environmental challenges in the book industry

: Steve Walker, Commercial Products Manager at the British Printing Industries Federation (BPIF); Lisa Faratro, Director of Environment and Sustainability at CPI Group (UK)

Conference opening, moderation, and closing

: Ulrich Stetter, President of Intergraf and Managing Director of Druckhaus Mainfranken GmbH
– ENDS –
Download a pdf of this press release here.
{K2Splitter}