Join us at print matters for the future conference
24 March 2022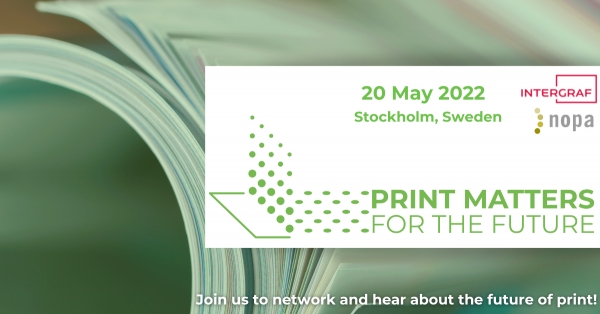 Intergraf and NOPA are looking forward to meeting you at Print Matters for the Future! Our conference will take place in person on 20 May 2022 in Stockholm, Sweden. You will finally have the opportunity again to network and meet colleagues from all over Europe to discuss the latest developments in the Printing industry.
Print Matters for the Future is an annual conference which has rapidly grown into a highly-anticipated fixture in the calendars of national printing associations, printers and suppliers to the industry.
This year the conference is organised by Intergraf and Nopa in Stockholm, Sweden and it will be an in-person conference. It brings together printing industry experts from all over Europe to discuss the future of print. Each year Print Matters for the Future focuses on different aspects of the industry. This has included: marketing, consumers, data protection and more. Participants will hear the perspectives of printing experts, as well as receive exclusive insights.
We will talk about market issues for example the current situation of paper prices and availability with the expert Alejandro Mata Lopez from Fastmarkts RISI. The giant Amazon will be analysed by Nick Rudikoff from UNI Global. Simon Biltcliffe, Webmart Managing Director, will present an overview of print management and strategy, Maria Johansen from Zuora will speak about subscription and the new old way of connecting with consumers. You will have the opportunity to attend a presentation on door drops by Eduard Quintana, from Traycco, and case studies from the innovative UK printing company 'Precision Proco' and from the Nordic publisher 'Bonnier'. Sarah Price from Sappi will highlight the sustainability challenges and how the paper industry is getting fit for the future. Carsten Bog from Grakom will explain how printers can reduce and promote their carbon footprint and avoid greenwashing. We will focus on CO2 calculations for printers and look at the topic of environment seen from the perspective of a paper manufacturer and a representative of the next generation. Our Intergraf Young Talent Award winner 2022 will speak about print in a circular economy. 
Beatrice Klose, Intergraf Secretary General, states "The printing industry is facing severe challenges and in our event we will finally have the opportunity to discuss them together face to face. Participants and high-level speakers will come to Stockholm from all over Europe. I feel that is it so important to meet again in-person and share our views on the latest developments and the future of our industry"
The event starts already the evening before, with a Welcome Cocktail on Thursday 19 May at 19:00 to give participants the possibility to network in a relaxed atmosphere. The conference on Friday 20 May will run from 9:00 - 16:45 and concludes with a dinner on Friday evening.
Register HERE!
Find more details about the conference on Intergraf event page. We can't wait to finally meet you again in person! Let's shape the Future of Print together!
– ENDS –
Download a pdf of the press release.
{K2Splitter}