FRENCH LAW CREATES UNCERTAINTY FOR PRINTERS ON MINERAL OIL USE
6 March 2023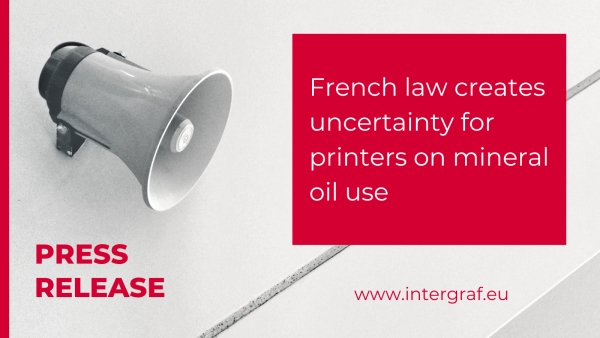 A French law regulating the use of mineral oils in printing inks is impacting the European market. The operations of European printers placing printed products on the French market are affected, as are those of companies in France. In letters sent to the French government, Intergraf calls for clarification that will allow printing companies to continue operating legally in France.
How France is regulating mineral oils
On 13 April 2022, the French government implemented an Order on the restriction of substances contained in mineral oils used in printing inks, applicable since 1 January 2023.
The Order contains:
over-ambitious thresholds;
a lack of clarity on the processes involved in the restriction; and
a lack of procedure to prove compliance.
This has created legal uncertainty that is unacceptable for printing companies in Europe.
"The French government must provide appropriate guidance on the correct application of the Order," said Beatrice Klose, Secretary General of Intergraf. "Printing companies must be able to continue to operate legally when supplying their French customers and placing printed products on the French market."
Impact on printing companies
The economic impact of this legislation is very concerning. Depending on interpretation, specific printing processes may no longer be able to operate in or deliver to the French market.
"This law creates a great deal of uncertainty," said Laetitia Reynaud, Policy Adviser at Intergraf. "Gravure printers in particular are alarmed because there is no official clarification on whether this printing process is covered or not."
For cases where alternative inks may be developed, the economic impact and practical implementation on presses also still needs to be assessed. Intergraf calls on the French government to take into consideration the technical and economic viability of alternative printing inks.
Intergraf demands clarification from French government
We regret the unilateral approach taken by France on this matter. A European approach would better safeguard the smooth functioning of the European single market.
Intergraf has sent letters to the French ministers of environment, industry, and culture warning about the impact of this legislation on the European printing market. We recommend a rapid reassessment of the impact of current measures on the printing industry.
– ENDS –
Download the full press release here.
{K2Splitter}