Democracy: Newspapers are vital for democracy
15 September 2020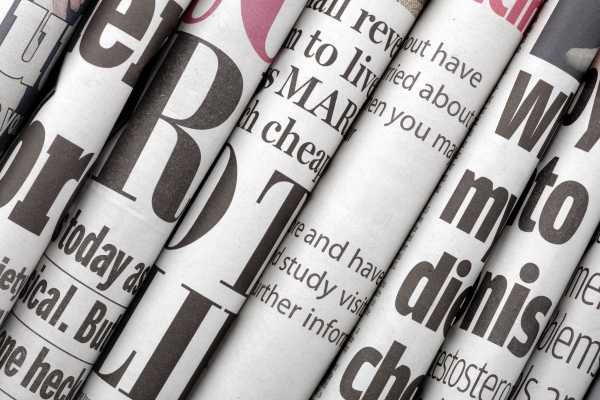 Newspapers support democracy and electoral integrity, public debate, media freedom, and media pluralism, as well as helping to combat disinformation and promoting inclusion. The importance of printed newspapers in Europe endures, even in our digital world. Meaningful recognition of this is needed in the European Democracy Action Plan.
Intergraf welcomes the European Commission's public consultation on a European Democracy Action Plan and is committed to nurturing, protecting and strengthening our democracy. The European printing industry has played a key role in this endeavour for centuries. Although the media landscape has changed significantly amid digitalisation, newspapers continue to play their part in maintaining a democratic and inclusive society in which all citizens can contribute through informed decision-making. Printed newspapers supplement online content in many essential ways and remain an important part of Europe's future, as well as its past.
The democratic importance of printed newspapers
Printed newspapers reach the estimated 30% of people in the EU-27 without no or low digital skills (more than 130 million people) (Eurostat), supporting the participation and informed decision-making of all citizens in public debates and elections.  Subject to strict rules on editorial independence and objectivity/impartiality which the public is generally well aware of, traditional media – including printed newspapers – is a highly trusted form of news delivery compared to online platforms (Eurobarometer on fake news and disinformation). The existence of printed newspapers also protects European citizens' right to choose how they consume news and information.
With online platforms publishing instant, bitesize updates, printed newspapers give journalists and citizens the opportunity to delve deeper into important news stories. Reading long-form, printed texts – like those in a newspaper – has been proven to be better for comprehension, concentration and critical thinking than reading from a screen (Stavanger Declaration). These skills help to give citizens the necessary tools to recognise disinformation, as well as ensuring proper understanding of a topic – all crucial facets of a democracy.
Even before COVID-19, newsrooms across the globe were changing: 'digital first' news consumption has fast become the norm, with printed newspaper titles declining amidst the quest for more clicks and vanishing advertising revenue.  With the pandemic accelerating trends towards digital, as well as instigating a halt on advertising that has seriously affected the financial situations of many newspaper printers, the existential risk to newspapers – and the role they play in our democracy  – has grown.
As well as these challenges, traditional media is subject to certain regulatory restrictions (e.g. on political advertising and campaign activity), which exist for very good reasons. However, online platforms are not always subject to the same restrictions. Stakeholders are thus not operating on a level playing field, with the current situation amounting to unfair commercial practice. This is contributing to the erosion of media pluralism and public debate in Europe by further reducing the impact and reach of traditional media compared to online platforms.
We look forward to the European Commission's proposals on this critical issue and reaffirm the European printing industry's willingness to contribute to such actions where possible.
Recommendations
Reflect on the continued importance of printed newspapers for democracy;
Emphasise the important economic impact that printed newspapers have on the incomes of many economic operators, including newspaper printers and news publishers;
Consider the democratic needs of all citizens – particularly those without sufficient digital access or skills;
Ensure a level playing field when it comes to political advertising and campaign activity (any restrictions on traditional media should also apply to online platforms);
Offer ample state support to printed news media to maintain their existence (and incentivise Member States to also do so);
Refer to existing research on reading practices, such as the results of the COST Action E-READ initiative , which shows the importance of reading printed materials for the development of critical thinking and comprehension skills throughout society;
Protect European citizens' freedom to choose how they consume news and information.
Download position paper here
Contact: Alison Grace
{K2Splitter}