Printing Industry & Packaging
21 December 2020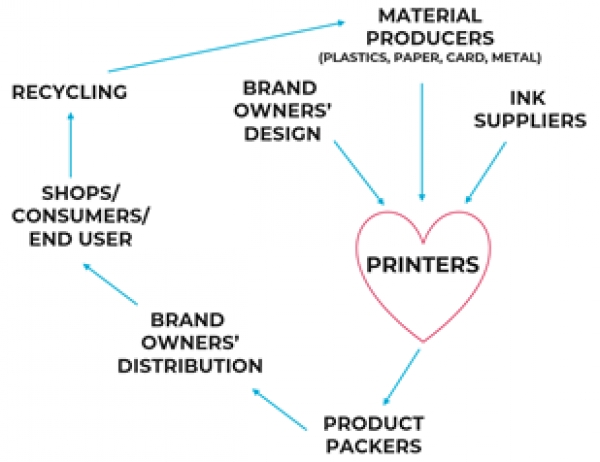 Position paper for the Public Consultation to inform the review of the requirements for packaging and other measures to prevent packaging waste
About us
Intergraf is the European federation for print and digital communication. We represent 21 national printing federations from 20 countries, and, in turn, our members represent a large portion of the printing industry in Europe. Intergraf shares its secretariat with FTA Europe, which represents the flexographic printing industry. Flexo is the single largest technology used for printed packaging, with an over 50% market share. Printers are at the heart of the packaging value chain.
The majority of consumer packaging sold in the EU is printed (flexible packaging over 75%; corrugated over 80%; and carton over 90%).
The printing industry (EU + UK) consists of over 110,000 companies and 600,000 employees.
Printers have a turnover of €160 billion from printed packaging as well as graphic print such as books, newspapers and advertising.
95% of the industry are SMEs, employing fewer than 20 employees – often fewer than 10.
Printers use many different materials (plastic, paper & board, metals etc.), either printing directly on the substrate, or on a label.
Printers range in the influence they have on the final packaging – some are involved in the design process, some just advise on the components, others have no influence at all.
The work of a printer changes all the time – paper type or thickness, inks, packaging layers – it is always a unique product. The printer needs to be able to offer these wide-ranging options to their customer, or the customer will go elsewhere.
Our 7 calls to the European Commission
1. Packaging serves an essential purpose
Packaging protects the product, from its journey from the printer to the shelves in the shop. It prolongs shelf life and prevents damage. It makes food last longer – a crucial way to combat food waste which is a major contributor to consumers' environmental footprints. Packaging also provides consumers with information, such as ingredients, usage instructions, and branding.
Notions like 'over-packaging' or 'unnecessary to protect the product' are extremely vague and risk damage to products (creating waste) if new rules do not work in harmony with the functionality of packaging. Lessons must be learnt from the quickly adopted Single Use Plastics Directive, and the delayed guidelines: definitions and clarity is of paramount importance. The purpose of packaging must not be forgotten.
COVID-19 has been a huge challenge for Europe, but high demand for the food and medical packaging supply chain proves that the conversation around packaging changes when hygiene and health is the central issue. Clearly, packaging is an essential product for all our lives.
2. Sustainability should be the goal
Achieving sustainability must the European Commission's goal. Target setting and design requirements in themselves as the aim risk hitting the target but missing the goal. Recyclability is not more important than sustainability.
Overall life-cycle analyses (LCA) to determine CO2 emissions must be carried out for all new initiatives, such as encouraging the uptake of reusables or 'loose' products. The sustainable solution must take into account the source of the material, transport, and ease of disposal.
A recent study ('The Significance of Environmental Attributes as Indicators of the Life Cycle Environmental Impacts of Packaging and Food Service Ware') has found that focussing on single product attributes such as recyclability, being biobased, or having a certain recycled content level is the wrong approach. The authors state:
"Life cycle thinking, consistent application of existing product category rules, and widespread adoption and further development of environmental production declarations should be used as the primary methods when aiming to reduce the environmental impacts."
Printers use a full range of materials because every product has a different requirement. In order to avoid spoilage or contamination of products, all materials must be readily available.
We already see examples of reusable industrial packaging in the printing industry; for instance, boxes or the inner rolls of film being returned to the printer. But this is not always possible: consider biscuits baked and packed in Belgium which are shipped to China. These are packed to last 1 year, and the CO2 cost of shipping back their empty wrappings cannot be justified.
A strong distinction should also be made between reducing 'packaging waste' and reducing packaging. In order to create an economically viable secondary-material market, packaging must be collected and processed. And, of course, it should never end up littered in the environment.
3. Cost and availability are the barriers to uptake of recycled materials
Many printing companies are ahead of regulation when it comes to sustainability. Alternative materials and water-based inks have been on offer in many printed packaging companies for 10 years or more. Some printers even have in-house recycling facilities to create secondary materials. However, ultimately, the final choice is made by the brand owner. Biofilms, for example, can be up to 2.5 times more expensive than regular films. Virgin paper is also often cheaper than recycled – and does not pose any risk for food contamination. Due to the fall in oil prices in 2020, virgin plastics materials are currently cheaper than secondary. Combined with the low levels of plastic recycling, availability worsens the situation. Faced with the high cost, in most brand owners' eyes, this is a quick choice. If the European Commission wants to achieve higher usage of recycled content in packaging, making it the cheap choice is the single most impactful task.
Closely following this number one priority: a review of waste management infrastructures in the EU should be carried out. If the packaging is not recycled in the first place, or is not profitable to process, then a scarcity of recycled content is created, meaning low availability for printers.
Packaging ending up in landfill or the ocean is a wasted resource. We call for the Commission to create a competitive market for recycled materials for non-food packaging, so that sustainability does not mean higher costs.
4. FCM must be exempt from targets for recycled content
Food contact materials must be exempt from any future requirements for recycled content in packaging. Whilst advances in product passporting, and materials tracking is happening, we see the situation now where brands are choosing virgin over recycled materials to minimise the risk of contamination. New rules must not undermine legislation on food contact materials. The necessity of adding a barrier layer between the recycled material and the food would then increase the packaging used for these products.
We welcome the European Commission's review of food contact material legislation and stand ready to provide input.
5. Consumers must play their part – and be helped to do so
While 9 in 10 consumers say protecting the environment is important to them, according to Eurobarometer, only 22% had bought products with an environmental label, 31% avoided buying overpackaged products, only 32% repaired a product rather than replacing it, and only 66% said they separated most of their waste for recycling (Special Eurobarometer). Evidence shows that there is a gap between consumers' good intentions, and what they actually do. Consumers act on many considerations, including price, convenience, habits, peer pressure, and emotional appeal (European Parliament briefing 'Sustainable consumption - Helping consumers make eco-friendly choices', October 2020). The consumer has also changed: more packaging is used in the EU today in part due to lifestyle changes. For instance, a person living alone requires a smaller loaf of bread. This creates more packaging. We strongly urge the Commission to place consumer behaviour at the core of the EU's circular economy strategy and future legislation.
Closely tied to the choices which consumers make, is the actions they take post-consumption. The most recyclable packaging has been designed in vain if its not disposed of (and then collected and processed) correctly. Recycled content will not be readily available if the consumers do not first dispose of the packaging correctly. National authorities must make recycling easy for consumers, including educating about separating materials and the impact of littering for the environment.
6. Flexibility & the Single Market
The job of a printer changes regularly. A printer with 3000 customers needs to be able to meet all requests and advise them based on the requirements of the product. Printers must be able to offer a full range of materials and applications. With any new legislative changes, we urge that that printers are permitted to retain the flexibility to offer a variety of packaging types to their customer.
We note here too that the EU's Single Market enables the economies of scale that enable investment in sustainability. Draft national rules in Germany, or France's new circular economy law undermine trade and the potential of this industry. Equally, all third country producers selling packaging in the EU must be brought inline with the rules to create a fair playing field.
7. The solution is collective effort
The design of packaging is just one part of a system which needs to function effectively to reduce the environmental impact. The actions of the brand owners, recycling industry, waste collectors and processors, local authorities, and, crucially, consumers – every part of the 'circle' – must be coordinated. Consumers need better and more consistent information as littered packaging is a wasted secondary resource.
Advances in packaging must be matched by advances in the recycling industry, and by the actions of local authorities and consumers. For instance, a heavy-duty, laundry detergent bottle designed for re-fill will be difficult for the waste system to process if the consumer does not know if or how it can be refilled. Translucent, 'plastic'-looking paper that can be recycled with paper waste could end up in the wrong bin if disposal instructions are not clear. A batch of high-quality paper, too, can be ruined by greasy food paper packaging.
Packaging is a highly valuable and indispensable industry in Europe. Printers are part of the solution and must be given adequate time to adjust to new rules and adapt business planning. Small printers cannot be overburdened by complex new rules, and it should be borne in mind that, at the end of the day, the brand must be responsible for the design of their packaging.
We remain at your disposal for further information and look forward to working with the European Commission in the next steps of this process.
Download position paper here
{K2Splitter}