INTERGRAF PUBLISHES GUIDE TO BAT IN HEATSET
29 April 2021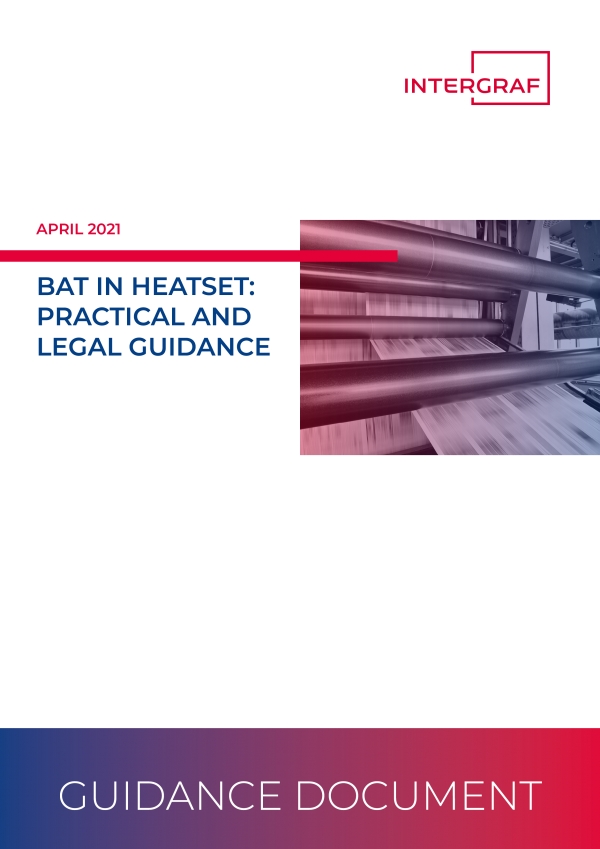 All printing companies consuming more than 200 tonnes of solvents per year will have to comply with new operating conditions and emission limit values by 2024. To support the implementation of the new requirements, Intergraf has published a free, public guide for heatset printers.
Intergraf has been actively involved in the EU's Industrial Emissions Directive (IED) and its revisions. We participated in the revision of the STS BREF from 2015 until 2020, when the European Commission Implementing Decision establishing Best Available Technique conclusions for surface treatment using organic solvents (EU/2020/2009) was adopted, establishing new requirements for large printers (e.g. rotogravure, flexography, and heatset printers).
To support the implementation of these new requirements in the heatset printing sector, we are pleased to announce the publication of a guidance document for heatset printing: BAT in Heatset: Practical and Legal Guidance. The guide is freely available on our website. It can be used by heatset printing plants and also by competent authorities to support the harmonised application of the new Commission Decision in the heatset sector.
"The Intergraf Guidance Document for heatset printing aims to support printing companies and competent authorities for a harmonised application of the new environmental permit requirements in the heatset sector."
Beatrice Klose, Secretary General of Intergraf
The guidance document features practical guidance (part 1), as well as a cross-reference to the legal text (part 2) to provide readers with both a technical and legal interpretation of the new European requirements. The guidance document links to a template for a Solvent Mass Balance (also called Solvent Management Plan) which also supports the application of the new requirements.
All documents can be downloaded from our website (linked below):
Please use and widely promote this guidance document to relevant companies and competent authorities.
– ENDS –
Download the full press release here.
Contact: Laetitia Reynaud
{K2Splitter}