Shaping the Future with Packaging 2023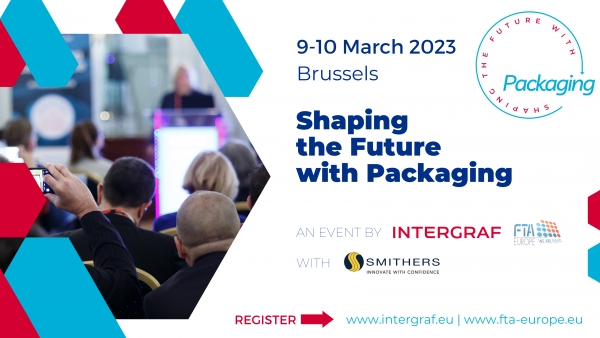 Registrations for Shaping the Future of Packaging are open! Register here.

Event content
Shaping the Future with Packaging will focus on the European packaging market. We are in the process of confirming speakers from across the industry. A representative from the European Commission will present about upcoming EU packaging and packaging waste legislation. Market research institute Smithers will present facts and figures about the packaging sector. Other speakers from retail, brands, and advertising agencies will also share their views.
Event programme
To allow people to travel to Brussels, this one day conference will take place over two days: during the afternoon and evening of 9 March and the morning of 10 March. The event will be held at the Hotel Le Plaza Brussels (Boulevard Adolphe Max 118-126). A networking dinner will be organised on 9 March.
Market report
For each event in this series, our market research partner, Smithers, provides exclusive data. Shaping the Future with Packaging will be accompanied by the European Packaging Market Report 2023, which will present an overview of the conference, alongside Smithers' market analysis. All attendees will receive this report free of charge as part of the conference package.
Event series
Shaping the Future with Print is an event series organised by Intergraf with Smithers. Each conference focuses on a different sub-sector of the European printing industry, so we periodically collaborate with other organising partners – such as FTA Europe. As well as packaging, previous events have focused on books, commercial print, magazines, and direct mail.

www.intergraf.eu | www.fta-europe.eu | www.smithers.com
Terms and Conditions
You can download the event T&Cs here.
Sponsorship
Silver sponsor

Would you like to sponsor this event? Then get in touch! Sponsorship packages are available. Contact Despoina Melissinou.
{K2Splitter}