64% made online purchase after receiving printed advertising mail
3 December 2018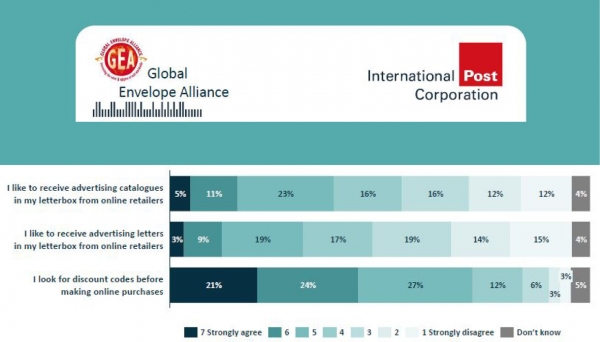 In their Advertising and E-Commerce Survey, the International Post Corporation (IPC) and Global Envelope Alliance (GEA) present figures about consumer preferences for advertising - digital and other - when online shopping.
In a comprehensive survey about consumer preferences in advertising and online shopping, the IPC and GEA targeted online shoppers in Germany, Japan and the USA who have purchased physical goods online at least once in the last three months and receive printed advertising in their letterbox at least once per month. The research makes clear that this cohort of people are very receptive to printed advertising.
The survey asked how many online purchases respondents had made as a result of receiving advertising mail in the past year: "While 36% had made no purchases, 23% made 1 or 2 online purchases, 14% bought 3-4 items, 11% bought 5-6 items, 7% bought 7-10 items, and 9% bought more than 10 items online as a result of advertising mail. This gives an average of 4.4 purchases per year per consumer." In Germany, however, the amount was slightly lower at 3.7 purchases per year per consumer.
How their online purchases are packaged was also important to respondents, with 66% overall (75% in Germany) identifying a preference for cardboard packaging (followed by large-format envelopes) due to sustainability concerns. 58% (68% in Germany) said they were prepared to pay an additional 10c for sustainable packaging. A plastic wrapper is the least preferred form of packaging for e-commerce, while paper is the most popular choice.
You can find out more about the packaging market across Europe at Intergraf's upcoming Packaging Conference on 21 February. Places are still available but are limited so register today to avoid disappointment! Link to event page.
{K2Splitter}