NEW MEPs URGED TO SUPPORT KEEP ME POSTED EU
28 June 2019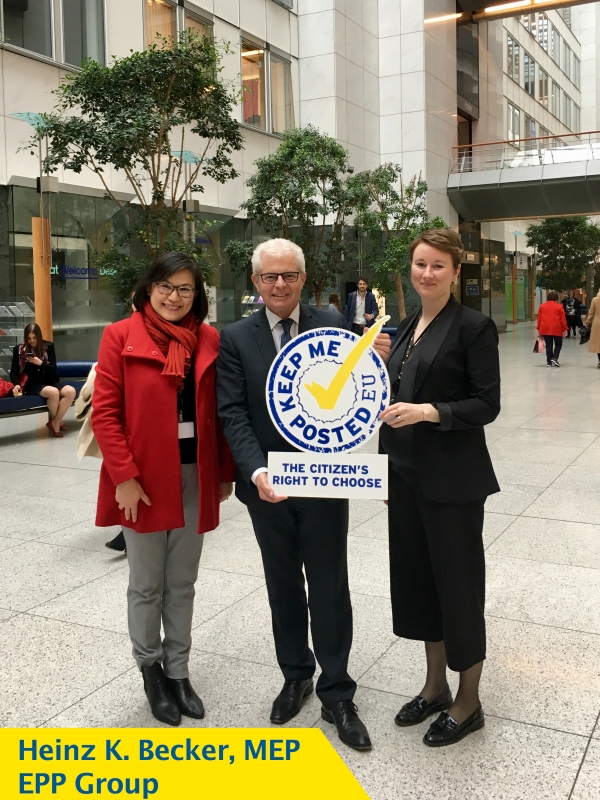 The Keep Me Posted EU team has participated in a series of meetings with outgoing MEPs who have offered important support to the campaign for the last 5 years. They urge new MEPs to offer similar support.

Keep Me Posted EU is committed to working together with MEPs in the new Parliament to protect the citizen's right to choose between paper and digital communications. The campaign has received strong support from MEPs during the last 5 years, some of whom the coordinating team met with recently to offer our thanks and discuss the future of the campaign.
Heinz Becker MEP (EPP, Austria) stated that "I want to recommend all new MEPs [...] to cooperate with this idea because all of our citizens deserve to have the choice between digital and mail communication." Lucy Anderson MEP (S&D, UK) also encouraged "any new Member of the European Parliament to help with this campaign, to support it, and to talk to all of their constituents about it and why it matters."
You can watch the MEPs' full video messages in our Video Gallery and/or find out more about the Keep Me Posted campaign here.
{K2Splitter}