INTERGRAF INTRODUCTION TO THE MEMBERS OF THE EUROPEAN PARLIAMENT
3 December 2019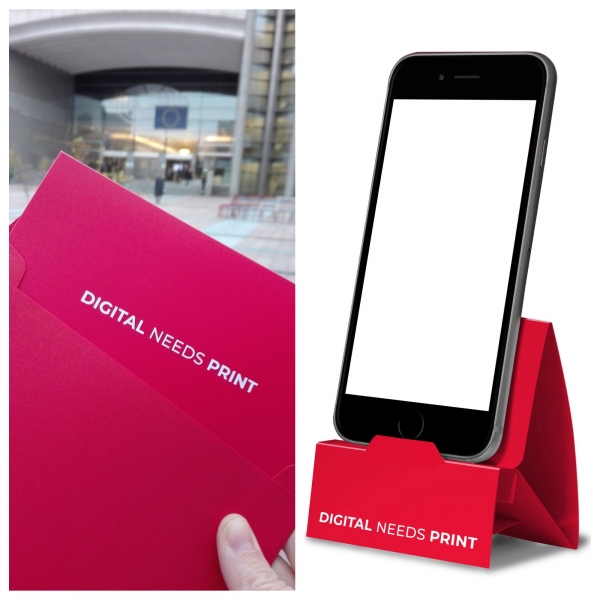 Approximately 750 envelopes were distributed to the Members of the European Parliament (MEPs), who represent all current 28 Member States. A card inside the envelope seeks to draw the MEPs' attention to their continued reliance on print, despite rapid digitalisation.
The card was accompanied by a mobile phone stand made out of paper, as well as instructions on how to assemble it. By giving MEPs a paper phone stand, Intergraf seeks to convey the message that print remains a reliable and indispensable product in people's lives. Intergraf continues to raise awareness about the importance of print and will take further measures to educate decision makers at EU level about the value of our industry.
Since the phone stands were posted to each MEPs' mailbox, Intergraf has identified around 300 MEPs with an interest in topics related to our industry, such as the environment, research and innovation, and consumer protection. Over the coming weeks, Intergraf will seek meetings with these MEPs. This in order to build relationships and ensure that the printing industry has solid connections to the European Parliament which can be relied upon when MEPs work on new legislation.
Moreover, Intergraf will persuade parliamentarians to promote the results of E-READ COST research on the importance of print for learning and the retention of information. It is crucial that the findings are fully integrated within EU policies on education and digitisation. To read the full message of the MEPs please read here.
{K2Splitter}