WHAT DOES THE FUTURE HOLD FOR PRINT?
4 May 2020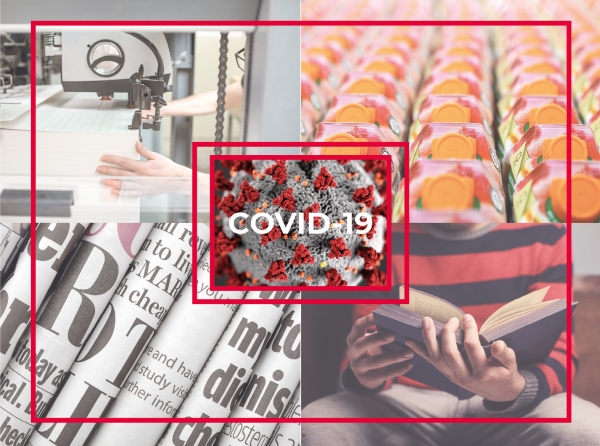 With the outbreak of COVID-19 and containment measures moving much of our social and economic lives online overnight, we take a look at what this could mean for the future of print. How will the industry move through and out of this crisis?
Although the end of the COVID-19 pandemic is still many months away,  countries across Europe are flattening the curve of infections, with numbers beginning to fall. Lockdown exit strategies are being discussed at regional, national and European levels, with some restrictions having already been lifted to allow for more economic activity and a glimmer of normal life to resume. Such easing ranges from the reopening of schools and nurseries, to the reopening of certain classifications of shops, such as DIY retailers. Different approaches can be seen across Europe.
However, such a one-by-one easing of restrictions will of course take time and the risk of subsequent waves of infection - and of re-introduced restrictions - is likely to remain until there is a vaccine. It is clear that we will have to learn to live in this new reality for some time. So what does such a reality mean for printers?
Taking stock
Many of Intergraf's national member associations have been surveying their member companies to find out what the effects of COVID-19 are at company level. The methodologies and questions of these surveys, as well as the results,  naturally differ, but in general it is clear that there is a strong feeling of uncertainty - from the prospect of layoffs, to the future of the business itself. Decreasing order levels of up to +/- 80% and increasing order cancellations due to the virus are impacting turnover in the vast majority of companies, with some experiencing serious cashflow problems which leave them at risk of bankruptcy. Unsurprisingly, the smaller the company, the more impacted they tend to be. Many companies are relying on bank loans and/or government funding to get them through this period.
More positively, certain sub-sectors of the printing industry - namely packaging - have seen orders remain stable, or even increase, because of their role in producing 'essential products', such as food and pharmaceutical packaging. It has also been reported in the USA that magazine publishers experienced a boost in sales during the first quarter of 2020 due to hoarding of such products for entertainment during lockdown. This appears not to have extended to newspapers, however, for which demand has decreased, inspiring calls from journalists for readers to "#buyapaper".
The global fibre market is also set to be significantly affected by the COVID-19 crisis (see image). While the panic-buying of toilet roll is expected to have a positive effect on the demand for fibre toilet tissue, the same cannot be said for fibre for packaging and graphic paper, for which demand is expected to slow in 2020 (albeit to a lesser extent for packaging). As well as monitoring the impacts of COVID-19 on other raw materials used by printers, such as synthetic ethanol alcohol and isopropanol (as discussed in our April Newsflash), Intergraf is monitoring both the graphic paper and the pulp and recovered paper markets. Intergraf members can request additional information from the Secretariat (Laetitia Reynaud).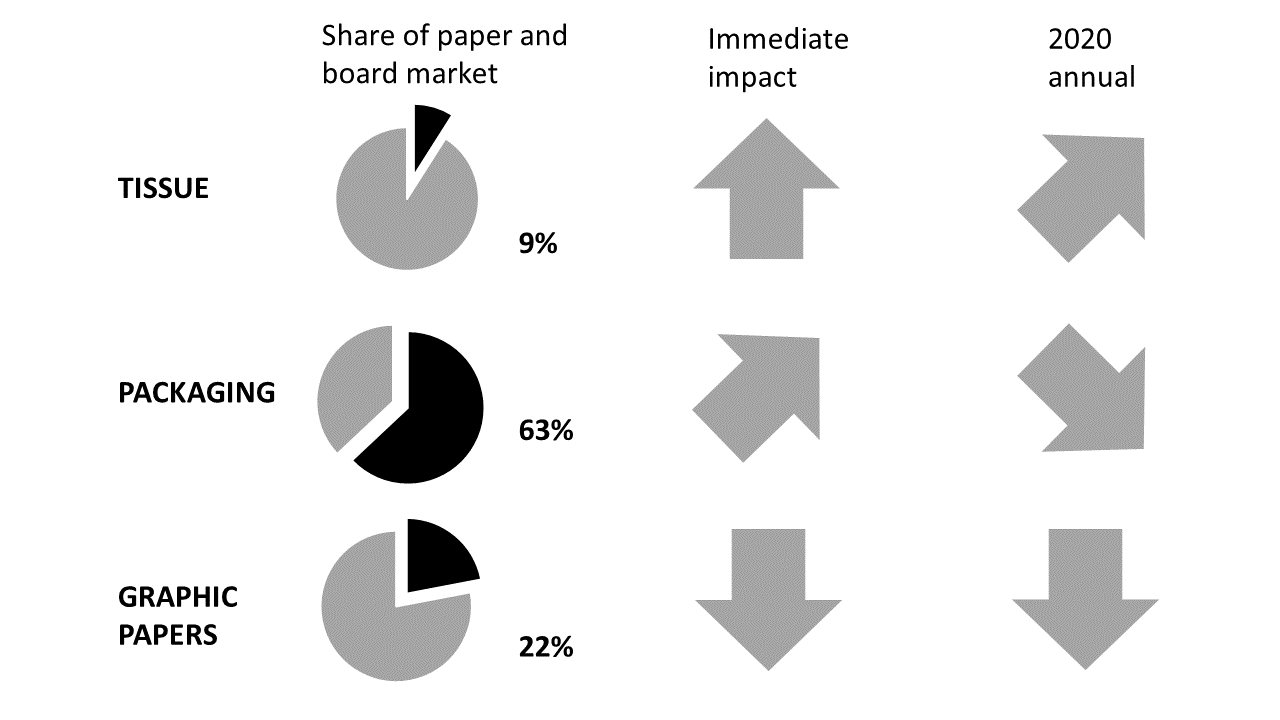 Source: RISI
Looking to the future
The future of printing companies, and the economy in general, will depend greatly on lockdown exit strategies and their success at keeping any subsequent waves of the virus at bay. Since printers necessarily rely on the custom of other sectors, any increases in economic activity should result in rising demand for print. However, at this stage, we can only speculate on the speed and extent of such a recovery, as well as the full impact of COVID-19 on different sub-sectors and supply chains of the printing industry.
Let's take advertising, for example, which makes up some 40% of the European printing industry. With the postponement, or cancellation, of events for the foreseeable future, as well as the closure of many retailers, demand for printed advertising has fallen dramatically. The World Federation of Advertisers (WFA) reports that 80% of multinationals have deferred campaigns due to COVID-19, although they are still creating high volumes of (digital) content. At the same time, some advertisers who have chosen to continue with a campaign have faced a backlash for doing so. If,  for instance, they were perceived to have been trying to profit from the crisis, or if social distancing was not being enacted in the advertisement, rendering it out of touch. Recovery for printed advertising will thus not only depend on the unrestricted reopening of businesses, but also on the extent to which everything has moved online and the mood of the public.
A new virtual culture
With a large portion of our social, educational and professional lives turning digital overnight, a new virtual culture has been emerging since the beginning of the COVID-19 crisis. Zoom hangouts have replaced physical meet-ups, events have moved online and many service and culture providers, such as nightclubs, gyms, art galleries and theatres, are providing digital content during the lockdown period - often for free; and paywalls for COVID-19-related news and information have also been removed across the board, with as yet unknown financial consequences for these businesses. In addition, profound changes are taking place in workplaces, with more-and-more meetings and events happening in virtual spaces and the number of people working from home skyrocketing. Eurofound, the EU agency for social, employment and work-related issues, has  reasonably speculated that COVID-19 could "permanently change teleworking in Europe".
What else could be permanently changed? And what impact will this have on physical products like print? Printed products play an important role in our society and culture. Print promotes learning, creativity, inclusion and 'IRL'  (in real life) connections, as well as providing sometimes much-needed respite from the online world. On the one hand, it is tempting to worry that there may be a lasting negative effect on print because of the necessarily rapid shift towards digital forms of communication during this crisis. On the other hand, there is already evidence that people are starting to experience 'Zoom exhaustion', or 'screen fatigue', which can lead to headaches, eye strain, tiredness and a lack of productivity. And after months in isolation, might physical, offline products and connections be more highly valued? The full extent of the effects of this shifting culture on the printing industry is yet to be seen.
Environmental impact
The interplay between digital technologies and the environment is likewise a very important issue in this crisis, as are growing online privacy concerns. In particular at EU level, given that "twin transitions" (digital/ecological) are the cornerstone of this European Commission's policy agenda.
Mandatory teleworking and social distancing has inevitably increased screen time. Amid the lockdowns, Netflix has more than doubled its expected number of new subscribers. While Zoom added more customers in the first three months of 2020 than it did in the whole of 2019. Even before COVID-19, digital technology was responsible for 3.8% of greenhouse gas emissions and 5.5% of the world's electricity consumption - numbers which will now be inevitably higher.  Netflix alone accounted for 15% of the world's bandwidth. And according to new research, "64 million views of 'Stranger Things' season three [on Netflix] is comparable to more than 189 million driving miles and producing over 420 million kg of CO2".
"Contrary to popular belief, digital technology is an environmental disaster and the tech giants, who dominate this economy, are partly responsible." Euractiv

Despite such clear and striking statistics about the significant environmental impacts of digital technology, a study lately found that almost three quarters (72%) of people (in the UK, where the study was carried out) are unaware of the high carbon footprint associated with even the most basic of digital communication: email.
Calls for a green economic recovery from the COVID-19 crisis are nonetheless becoming louder, with COVID-19 acting as the potential catalyst for much needed change. For instance, the European Alliance for a Green Recovery was recently initiated at the European Parliament. And Frans Timmermans, European Commission First Vice-President and head of the European Green Deal, has promised EU lawmakers a green recovery. The position of digital technologies in this conversation will be salient in the new context created by COVID-19.
Supporting printers
Intergraf has been in regular contact with the European Commission (DG GROW) since the beginning of this crisis, providing weekly updates about COVID-19's effects on the European printing industry. Information communicated to us by our members is fed to the Commission to support the EU's COVID-19 response, as well as being shared between our members to support their important work with companies. We keep our members regularly informed about the situations and support available in different countries and at European level, alongside sharing other important  resources and developments to support work at national level.
Because this crisis affects so many facets of our sector and beyond, we have furthermore publicly distributed various articles, press releases and joint statements about the effects of COVID-19 on print and what policymakers must do to support the sector. For instance, with our social partner UNI Europa Graphical, we have called for prioritising the health and safety of employees during this crisis, and for print to be defined as an essential service. Moreover, alongside other associations in the packaging supply chain, we have called for the protection of vital materials used by essential packaging printers.
For an overview of Intergraf's public actions, you can visit our COVID-19 response web page. Intergraf members can also contact the Secretariat for more detailed information about any of the topics mentioned.
Practical tools
Our members offer practical guidance for printers at national level. European level guidance has been published by EU-OSHA, the European Agency for Safety and Health at Work, about how to adapt workplaces and protect workers in a changed working environment due to COVID-19.
{K2Splitter}