SMEs must be "at the centre" of Europe's transformation
14 September 2022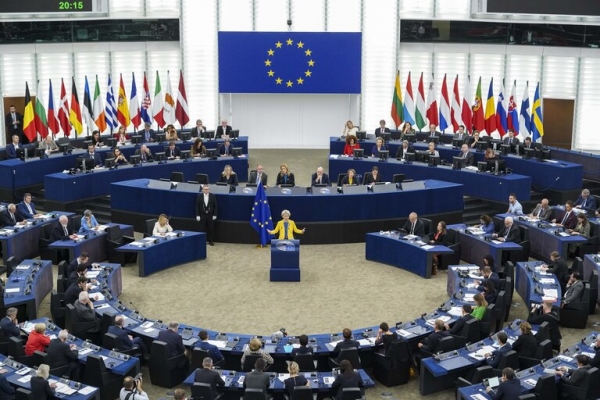 European Commission President Ursula von der Leyen delivered her third State of the European Union address this morning at the European Parliament in Strasbourg. Full of passion, content, and concrete proposals, the speech covered important topics for the graphical sector and beyond, outlining the European Commission's priorities for the year to come. President von der Leyen championed solidarity in Europe and a renewed, united EU. Read on for Intergraf's reaction.
Today's State of the European Union address had an overarching theme: Ukraine. With Ukrainian First Lady Olena Zelenska in attendance, President von der Leyen affirmed that "Europe's solidarity with Ukraine will remain unshakeable", condemning Putin's war on our energy, our economy, our values, and our future. Von der Leyen also supported the call for a European Political Community to reach out to European countries outside of the EU accession process, including Ukraine, because "You are part of our family, your future is in our Union, and our Union is not complete without you".
Von der Leyen's speech unsurprisingly focused heavily on the energy crisis and the European Commission's recently announced measures to support businesses and households in Europe. These measures are projected to raise €140 billion for EU Member States by taxing the profits of energy companies and reducing energy demand during peak hours to lower consumption and prices. Meanwhile, von der Leyen underscored the importance of eradicating Europe's dependency on Russian energy sources.
Perhaps President von der Leyen's biggest statement was the endorsement of a European Convention with a view to treaty change because "it is time to renew the European promise". The reason such action is necessary, according to von der Leyen, is to "enshrine solidarity between generations in our treaties" and ensure that we "do no harm to our children's future". The 2007 Lisbon Treaty was the last time such reform took place, so this would be a significant development if it comes to fruition.
For the printing industry, a few key statements and proposals stood out. Von der Leyen clarified that "We need an enabling business environment, a workforce with the right skills and access to raw materials our industry needs". She focused on SMEs, announcing an SME Relief Package to include a proposal for a single set of tax rules for doing business in Europe (called BEFIT). She also announced a revision of the Late Payment Directive to ensure that invoices are paid on time. On skills, von der Leyen proposed to make 2023 the European Year of Education. She also announced a European Critical Raw Materials Act to secure the supply and processing of raw materials including lithium and rare earths.
Intergraf welcomes the European Commission's focus on the important issues mentioned above and will continue to raise the issues of printing companies in all relevant fora.
{K2Splitter}