Interview with Board Member Ulrich Stetter
12 July 2018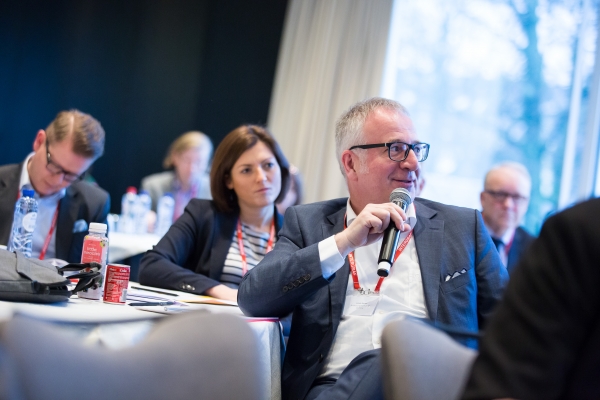 Following confirmation at the General Assembly one month ago, Intergraf welcomes a new Board Member: Ulrich Stetter, Managing Director of Druckhaus Mainfranken GmbH in Germany.
What is your company? What do you do there?
I work as Managing Director for the printing companies within the Druckhaus Mainfranken-Group, which is the production part of the flyeralarm-Group, based in Würzburg, Germany.
Within the Druckhaus Mainfranken Group, we have four companies, 7 production plants in Germany and approx. 1,500 Employees. Druckhaus Mainfranken concentrates on the industrial production of all kinds of printed goods in small quantities. Schleunungdruck and Druckerei Thieme Meißen are commercial sheet fed printers.
What is your background?
After training as a carpenter, I studied at the University of Printing in Stuttgart, finishing as a Wirtschaftsingenieur Druck. I have now worked for over 30 years in this interesting industry, so have accumulated a lot of industry knowledge.
How do you view your work as a new Board Member of Intergraf?
Our customers are more and more international, with a few very big international suppliers for our industry (paper, ink etc.). Because of this, our industry should have strong international platforms. I hope, I can support stable and fair conditions for our industry in Europe in the future. I also want to support better communication between printers in different European countries.
How do you see the printing industry evolving in Germany?
There has been better development of the industry in the last years, but it is always facing some discussions about pricing.
What are challenges?
Fewer suppliers in the paper industry, higher paper/material prices and customers who try to pay less for a higher quality and more services.
What are opportunities?
The scope for offering additional services in a changing market. Printers should sell products and solutions as a very important element in the marketing mix of our customers.
What are some of the most crucial future trends?
Smaller quantities, very quick reaction times and fast delivery. Also, to create emotional marketing products which occupy an important place within the marketing mix.
Do you have advice for other printers in this dynamic industry?
I don´t like to give advice as we have lots of wonderful experts in this industry. But in my opinion: focus on your customers and do what you love to do.
Outside of the office, what are some of your interests and pastimes?
Outside of the office, I spend a lot of time in nature with my family and our dog. I cultivate some small forests near my hometown, where I like to work with older heavy machinery. I also enjoy travelling to learn more about other countries and cultures.
Do you have any messages you would like to send to your European colleagues?
Be creative, show your customers what we can offer as a very modern and digital industry and be successful!
Is there anything else you would like to add?
Thanks a lot for the open-minded discussions within Intergraf with all of the other active leaders of the European industry.
Thank you!
{K2Splitter}