OPEN CALL FOR EXPRESSION OF INTEREST: Digital Communications Service Provider for EU-Funded Project
22 August 2018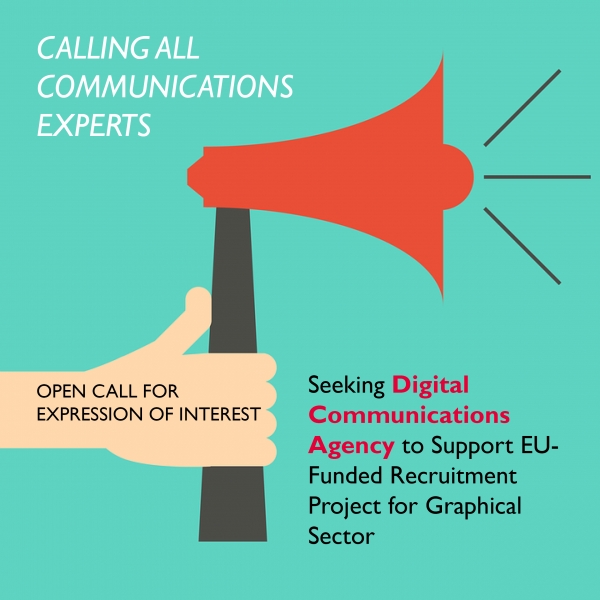 Intergraf is the European federation for print and digital communication. We are a Brussels-based trade association representing employers in the European printing industry.
Intergraf seeks to engage the services of a digital communications agency/specialist to support a Work Package of an upcoming EU-funded project (EASME/COSME Programme). The Work Package will develop a sectoral recruitment strategy and supporting toolkit to attract and recruit young people who are at the stage of choosing their final studies (and their parents), as well as future graduates and unemployed people, to take up a career in the paper-based industries.
The project as a whole aims to create a Europe-wide strategy to address the skills and recruitment needs of the paper-based value chain (pulp & paper manufacturing and paper-based printing). The contract for this project will be signed at the end of 2018, with project work beginning shortly afterwards. The full duration of this project will be 18 months. However, the Work Package the agency will work on is due to be completed during months 4-15.
The successful agency will be expected to provide services in the following areas:
Communication & Dissemination Strategy
   - Develop full communication and dissemination strategy for the necessary Work Programme of this project
   - Include plan for materials to be used on websites, in print and in presentations for all target groups
   - Manage and implement communication and dissemination strategy
Marketing
   - Design various promotional documents (e.g. project brochure/handout)
Website Development
   - Design and develop creative project website to showcase all project activities and outputs
   - Plan content and write copy for website
   - Translate website into different languages
Promotional Videos
   - Create 1-2 promo videos to promote the project
   - Create multiple interview videos with students, education/training providers and companies from 6+ European countries to showcase the possibilities of a career in the paper-based industries
To be eligible, the agency/specialist must be based in Europe with their own workspace and equipment. Briefing sessions will be held in Brussels at Intergraf's offices.
To express your interest in working with us on this project, please send a quote for services. Please also demonstrate your capacity and suitability to complete all work required, as well as giving details of your relevant knowledge and experience. We ask also that you provide any relevant information about experience you have supporting similar projects.
Please send your expression of interest before Friday 31st August to Alison Grace at Intergraf: This email address is being protected from spambots. You need JavaScript enabled to view it.. We look forward to hearing from you!
{K2Splitter}