Paper recycling in Europe reaches 72.3%
1 November 2018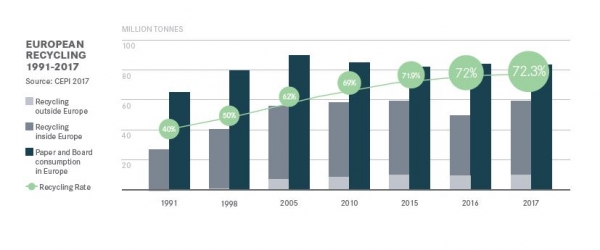 The paper recycling rate in Europe reached an impressive 72.3% in 2017, a further increase on previous years.
The European Paper Recycling Council (EPRC) has released its annual Monitoring Report for 2017 and the news is good. Already a world leader in paper recycling, Europe is edging closer to the paper recycling target of 74% by 2020. Improvements at regional level can also be seen, with fewer countries reporting a recycling rate below 60%.
According to the EPRC, "In 2017, 72.3% of all paper consumed in Europe was recycled. The collection of paper for recycling has increased by 0.8% compared to 2016 and reached 59.6 million tonnes. Paper consumption has slightly increased compared to 2016 and reached 82.5 million tonnes. Due to the Chinese waste imports restructure, Chinese imports of European paper for recycling have started to decline. The decline is gradually being balanced by a stronger use of paper for recycling in Europe.
"On an international level, Europe continues to be the world champion in paper recycling followed by North America. The paper recycling rates of other world regions are improving, but from lower levels."
EPRC Monitoring Report 2017
You can download the full Monitoring Report from the EPRC's website.
More information: www.paperforrecycling.eu
{K2Splitter}