ATTRACTING A NEW GENERATION OF PRINT PROFESSIONALS
26 April 2021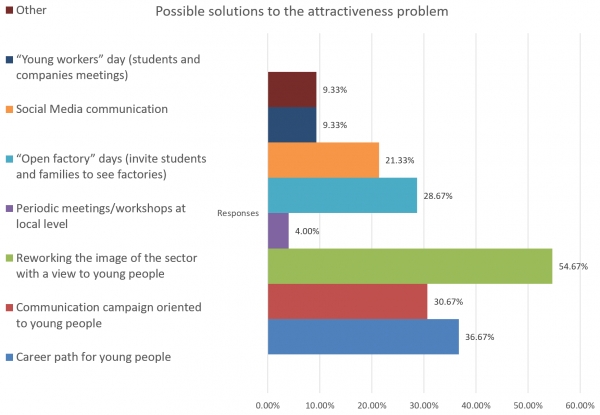 Printers produce products that are essential for the present and future; the European printing industry will be needed for many years to come. But some parts of the sector struggle to attract new talent. Taking steps to address this is an important activity for the future of print. Intergraf Secretary General, Beatrice Klose, and Communications & Policy Officer, Alison Grace, tackled this important topic in their presentations at virtual.drupa.
According to a recent survey conducted by Intergraf's Print Your Future project, 82% of stakeholders in the printing industry agree that attractiveness of the sector is currently a problem. The most voted for solutions suggest to:
Rework the image of print with a view to young people
Show career paths for young people
Run communication campaigns oriented to young people
Developing such solutions is the main aim of the Print Your Future project. Outcomes of the project will include:
Communications tools showing a new sectoral identity for print (e.g. a website with video testimonials of young people, promotion of career paths and job profiles, a list of print schools and courses in Europe, and more)
A Best Practice Toolkit aimed at recruiters in the printing industry
4x Young Workers Days to promote the printing industry to students (in Estonia, Germany, the Netherlands and Portugal)
Check out the project website for more details (www.printyourfuture.eu).
"We need a skilled, knowledgeable and adaptable workforce for the future, but finding young people who want to work in the printing industry is a real challenge"
Beatrice Klose, Secretary General of Intergraf, virtual.drupa 2021
In her presentation, Beatrice delved deeper into the topic of attractiveness, sharing information about what young people expect in the workplace, which includes:
Jobs and companies that match personal values and culture
Jobs and companies that make an impact
Being given responsibility
Being offered  learning opportunities
Taking part in coaching and mentoring
Achieving work-life balance
Flexible working arrangements
Less hierarchical workplace
Wellbeing at work
Staff involvement in the company's direction
Positive and supportive company culture
{K2Splitter}