TOM HALLAM: PACKAGING TRENDS AND OUTLOOK
5 January 2023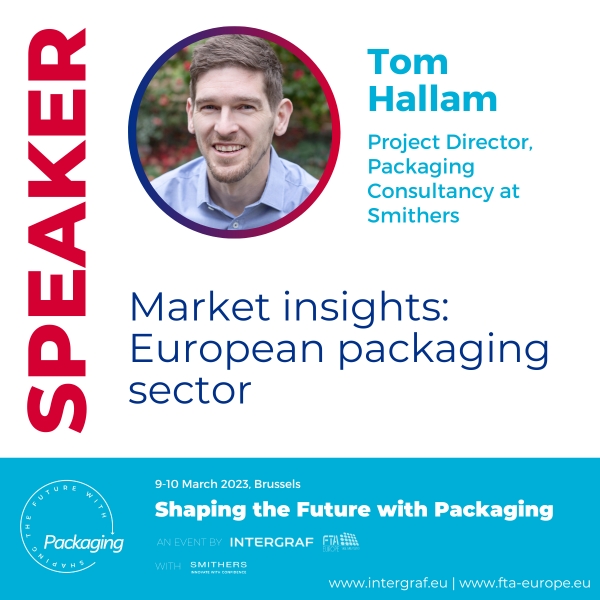 Intergraf interviewed Tom Hallam from Smithers about the latest packaging trends affecting the European market. Tom will present at our Shaping the Future with Packaging conference on 9 and 10 March 2023. Register here for the event.
What do you do at Smithers? How did you come to work in packaging?
My job title is Project Director, Packaging Consultancy which means that I am responsible for the entire process of a packaging consultancy project. This starts with a draft proposal which is then fine tuned to meet the exact requirements of the client. Once the project is started I oversee all elements of the project, from the primary and secondary research to the final delivery, which is typically a report and presentation to the client. Our clients range from global Brand Owners in the B2C sector to material suppliers and technology developers in the B2B sector.
My route to Smithers started in the consumer products industry with Reckitt back in 2000 where I had roles in market and consumer insight and mergers & acquisitions. From 2006 to 2022 I worked exclusively in the Forest Products industry, starting with UPM and then working with the likes of DS Smith and Billerud in sustainability and product development roles. I also spent 4 years during this period running a sustainable packaging consultancy called Brand Ethics Limited.
What are the benefits for Smithers of working with Intergraf?
Our clients turn to us for credible market data to help make decisions with confidence. Clients trust our data because of our technical knowledge, market estimating expertise, network of experts and our deep connections within the industries we serve. Working closely with many credible associations such as Intergraf – as we have done for many years – helps keep us connected to the industry and provides an additional sense check on our insights. We are very proud to be the worldwide authority for the packaging, printing and paper industries, and look forward to many years of fruitful collaboration with Intergraf!
The packaging industry has been growing and undergoing a lot of change. What do you see as the main trends?
The key areas topics that we see driving the packaging market in Europe at the moment are: Regulation/Legislation (the Packaging and Packaging Waste Regulation in particular), Sustainability, increased Consumer Knowledge on environmental issues and packaging, E-commerce growing faster than traditional retail, Digitalisation offering a wide range of opportunities and the increased need for Convenience in the Food Service packaging sector.
How do you see the developments in printing technology used in packaging printing?
While there is a perception of print having a tough time, it is actually a highly competitive and dynamic business, particularly in the packaging sector. A big factor is the trend towards shorter run lengths, which is one of the factors that is driving the growth in digital printing. When producing shorter runs, set-up cost differences can contribute significantly to variations in the cost per print between printing processes. On the other hand, over long runs these set-up costs are diluted and the consumables costs – ink, coatings and other consumables – tend to dominate.
Clearly, there is a huge amount of excitement in the development of digital printing – both inkjet and electrophotography. The early adopters of digital are getting to grips with the workflow and logistics implications of handling many more short runs. Packaging converters are working to implement major improvements in upstream order processing, design and prepress; and downstream finishing and logistics.
There are also exciting developments happening in the analogue printing space. Developments aimed at improving the short run performance of offset litho, flexo and gravure include fixed gamut printing, automatic colour correction and registration, streamlined plate and cylinder preparation, robotic plate mounting and many others.
What are the challenges for packaging producers/printers?
For packaging suppliers, the challenges are influenced by the end-use sectors they are supplying into, the packaging formats they are producing, and the raw materials they typically use (plastic or fibre-based packaging). The challenges they face are very much linked to the packaging market trends and drivers. At a more macro level there are 3 other factors that are currently having a huge impact on raw material suppliers and packaging converters in Europe: spiralling inflation, unprecedented energy price increases and the ongoing impact from the war in Ukraine.
Another big challenge affecting both printers and packaging suppliers is the continued supply chain disruption and impact on raw material prices. The pandemic triggered huge logistical challenges in shipping – worldwide container shortages, coupled with port congestion and limited availability of vessel capacity. This has resulted in much higher shipping costs and extended lead times for deliveries, putting increased pressure on supply chains.
What are the opportunities?
The biggest trends in packaging today are in sustainability and e-commerce – these are creating huge opportunities for packaging converters and package printers. Digital printing has benefits when it comes to personalisation as individual print designs can be made to match the profile of individual customers. This can be achieved when the brand owner/retailer has a well-developed customer database ('big data'). When it comes to flexo the improvements in board qualities, such as white top kraftliners, means that brands can implement what is being termed 'Packvertising' – i.e. printing their corrugated boxes with high quality images to promote the brand and enhance the unboxing experience.
How can packaging producers/printers prepare for the future?
The market is changing radically. The best way to prepare for the future is to be aware of these shifts and trends, to use this insight to identify the most profitable market niches that you can serve, and then to execute utilising the best of the available technology, people and processes. A key part of this is understanding your customer – and your customer's customer.
Those who see challenges as opportunities are the ones who will win in the long term but to achieve success suppliers will need to invest in the tools and processes to make this happen – best in class market insight, employing creative/innovative thinkers, encouraging cross business and 3rd party collaboration and perhaps even some expert consultancy! Nothing will happen overnight but strategic planning for the next 2-5 years is crucial to ensure that the business model remains competitive in the long term.
What will you be presenting about at our event, Shaping the Future with Packaging?
I will be presenting the latest market insights from the European packaging sector.
What advice do you have for the packaging industry?
Keep up to date with the ever-changing regulatory environment and continue to invest in innovation to stay ahead of the competition.
Thank you!
Shaping the Future with Packaging
Hear more from Tom at our conference, Shaping the Future with Packaging! The programme consists of two half day conference sessions on 9 and 10 March 2023, as well as ample opportunities to connect, including a networking dinner. The event will take place at the Hotel Le Plaza in Brussels.
Participants will also receive an exclusive Smithers market report about the European packaging market as part of the event package.